WHAT IS THE BAREFOOT CODE LITE?
The Barefoot Code Lite is a bitesized version of our Employee Handbook (The original Barefoot Code), that has a wealth of information us and our ecosystem. We've created this to give you the opportunity to learn more about how we show up, and hope it inspires you to join our team!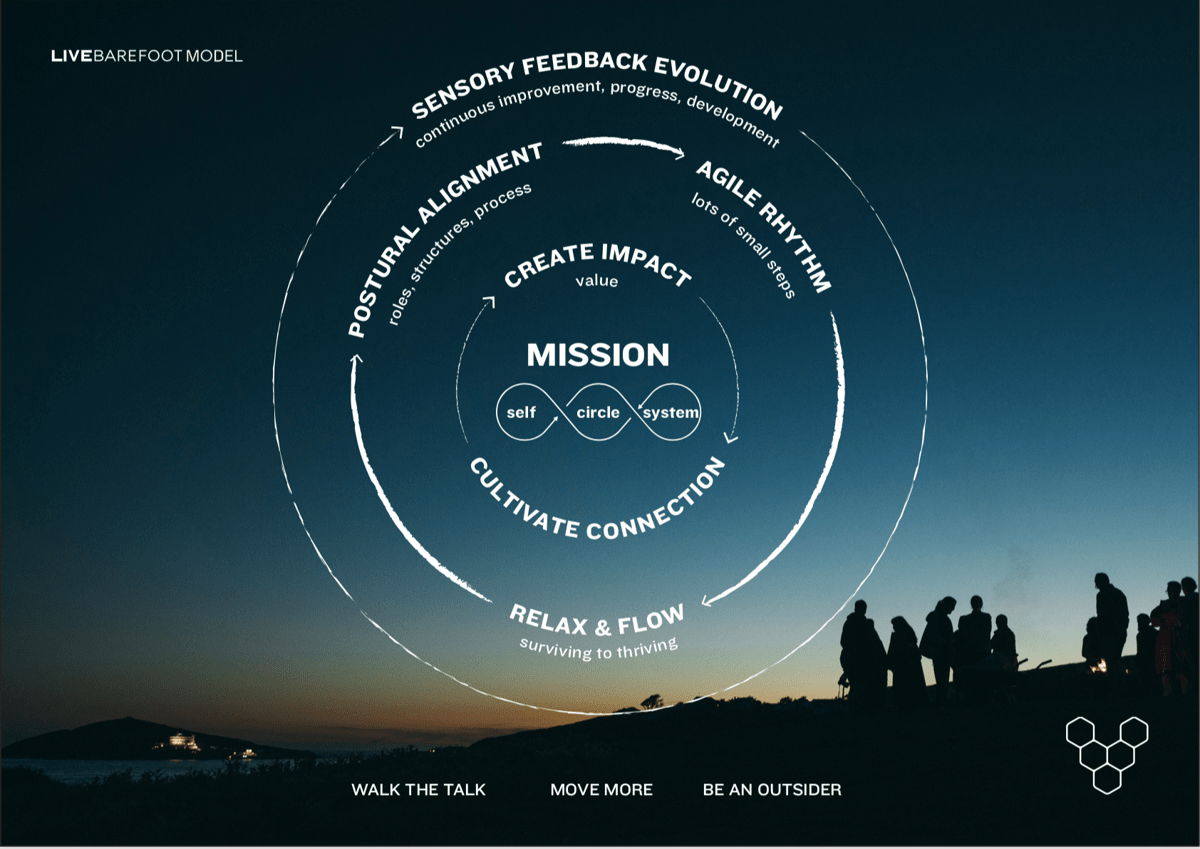 Living barefoot is our Vivo way of rejecting the cushioned life - living courageously and showing up true to our values and in line with our mission. It could sound like an abstract term but really it is just a way of talking about the way we show up as exactly as who we are, communicating and work together in flow. It is not simply about changing the hierarchy, it is more about shifting our individual and organisational relationship with power and control.
We already 'adult' and 'self-manage' most of our own lives – we pay bills, we plan out time with dogs/cats/children, we take responsibility for the stuff that is our responsibility. We'd like to apply this thinking to the way we all work at Vivobarefoot. We want all of us to take responsibility for your area of the business – it is yours; you know it better than anyone else. Be proud of that. Nurture it. Make it flourish.
We encourage you to go out and proactively develop yourself and your circles with clear orientation to your 'value' (impact) and our 'values' (Vivo Way). This is the Vivo Way - autonomy plus alignment in connection and flow with 1. Self (oneself); 2. Circle (teams); and 3. System (Vivo and the wider world). And while you're at it, make sure you're freely communicating and sharing information when and where it is needed. Help those around you, your colleagues and friends. Give them feedback, ask them for feedback, sense into the system around you. Be aware.
And if there's something you don't know, then ask – we are all dancing together and we are all learning as we go - we are all here to support one another as we evolve the way we work, and play. If someone does something that you think is amazing, then tell them. If someone does something that you feel could have been done in a different way, then tell them. And expect the same feedback from your colleagues. Talk often. Share. Tackle it together.
We want to build an entrepreneurial company that will be resilient to the changing world around us and gives us, as individuals and as a team, the opportunity to grow well beyond the job title we currently hang above our doors. Most importantly, treat each other as you would want to be treated – we are equals, so let's behave like equals and enjoy a place to work where we can all flourish.
We do not have a traditional organisational structure, we are transitioning from becoming a hierachical mechanistic organisation to a networked, living ecosystem.
Our Ecosystem is alive, like Vivobarefoot, and in constant change, that is why we do not have a print of it but we use a software called Maptio to embed it there.
You can see the latest version here.

We do not have traditional departments but we have Circles; circles are divided into Home Circles (link above) and Project Circles.
The main difference is that Home Circles are functional to a department (like Finance, Brand Impact, Operations etc.) while Project Circles are crossfunctional teams from different Home Circles working together on a specific project/process/topic.
WE ARE A CERTIFIED B CORP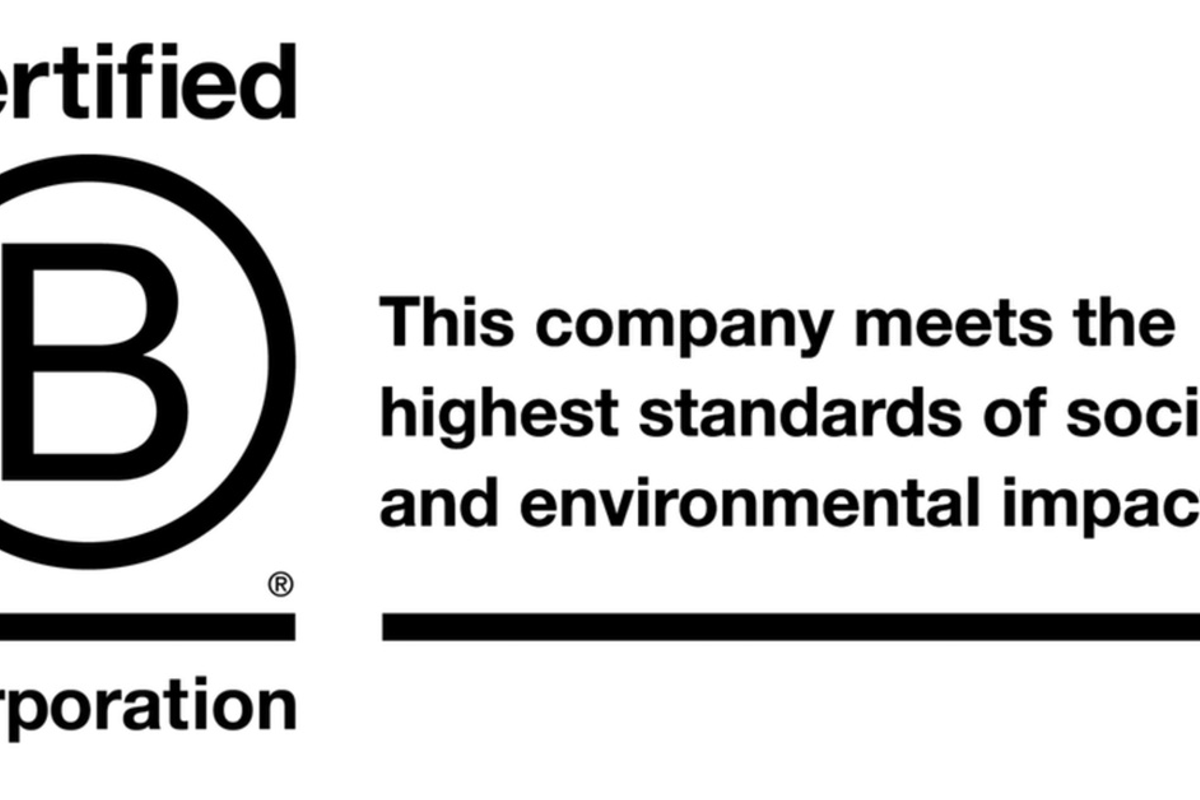 In 2020, we reached the status of a certified B-Corporation business. You can read about our achievement here.
B Corps are businesses that meet the highest standards of verified social and environmental performance, public transparency, and legal accountability to balance profit and purpose.
B Corps form a community of leaders and drive a global movement of people using business as a force for good. Right now we have a score of 98.8 out of 200, but we have a long way to go to be amongst the Patagonia's of the world, with the highest scores typically between 150 – 170!
In our opinion, the standards and verification processes of B Corp are best in class. The online Business Information Assessment is a comprehensive business, social and environmental tool and B Lab, the managing body, balances transparency, accountability and inclusivity.
We aim to reach a score of 120+ in our next certification in 2022.
UNFINISHED BUSINESS: OUR OWN TAKE ON INTEGRATED REPORTING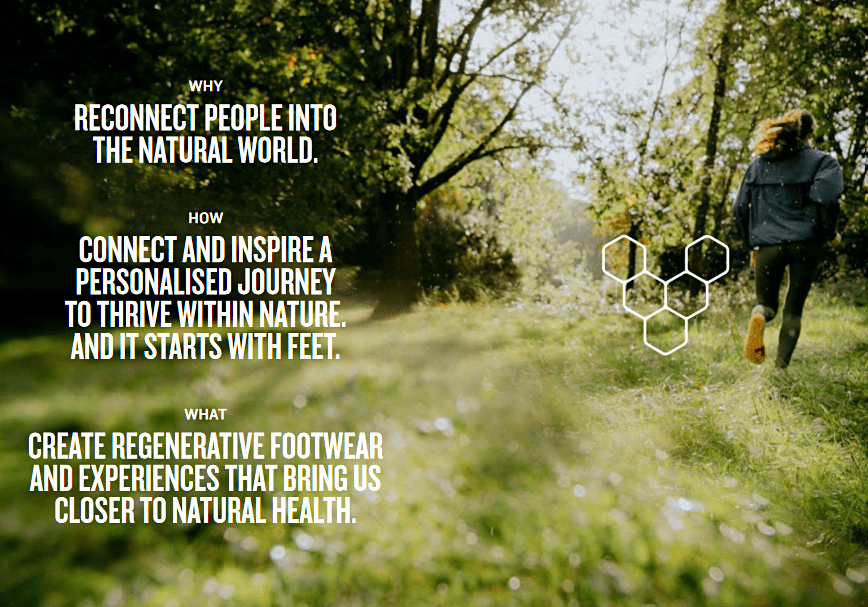 Unfinished Business is Vivo's integrated annual report. A holistic, warts and all review of a year in the life of Vivo.
We want to do things differently and we want to show the world our commitments and projects we work on year by year, offering full transparency on the unfinished stuff or things we haven't achieved yet.

We don't claim to be perfect but we want to be honest about where we are and what have achieved and what we plan to do in the future.
You can read through our most recent report (2021/2022) here.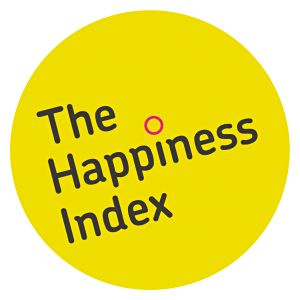 We work with The Happiness Index to help us measure employee engagement and satisfaction through annual surveys and continuous feedback tools.
At the moment we have two annual Cultural Assessment survey which we organise in July and January. These are full modules on happiness, engagement, value and inclusivity.
All of the surveys are based on neuroscience to collate data and help us understand where to improve.
We also have something called an "Employee life cycle" to support our On-boarding and Off-Boarding, that includes 3 On-boarding surveys (specifically after 2 weeks, 3 months and 6 months) and one Off boarding exit interview, for when people decide to move to new pastures.

Finally, we allso use "Employee voice", a 24/7 anonymous feedback tool that everyone can access to express ideas, concerns, suggestions, shoutouts and more. All the comments are read and addressed by the People team and reported to the CEO.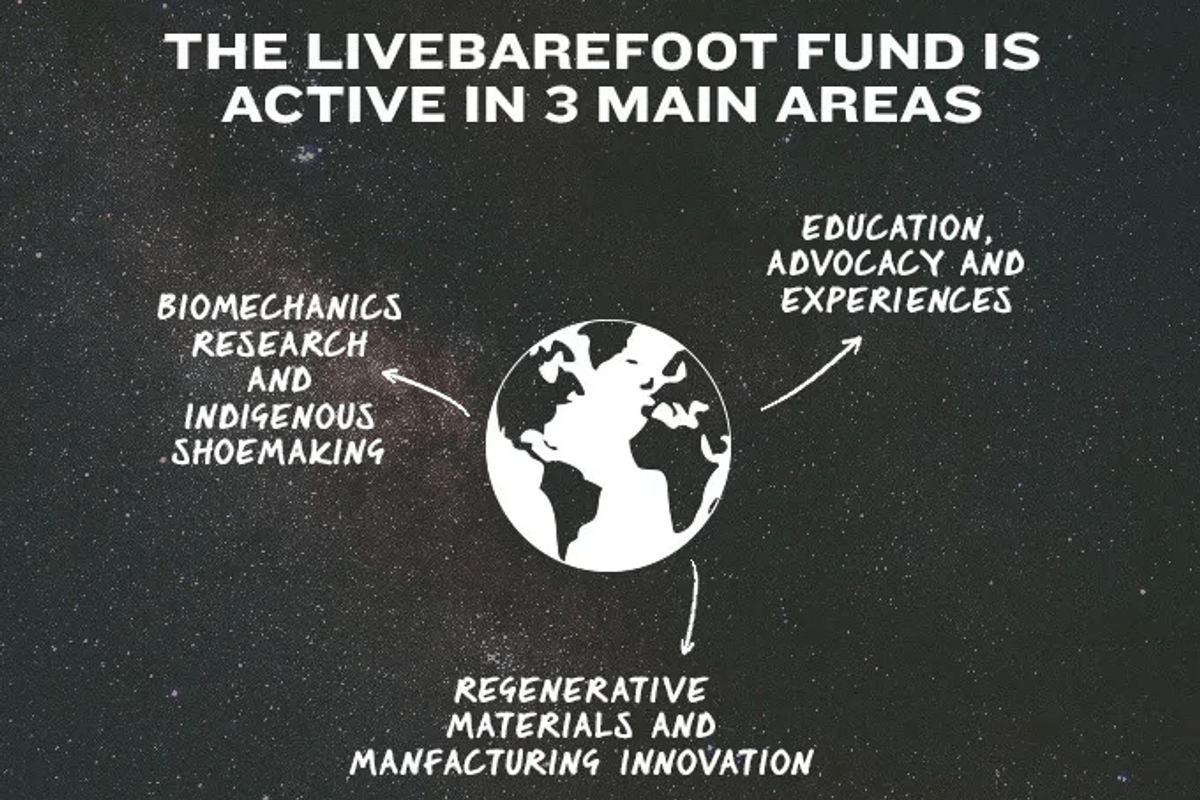 In 2020 we created the Livebarefoot Fund as our internal Impact Fund for initiation, nurturing and funding research, social and environmental mission aligned programs to drive a systemic change in our industry, as well as human and planetary health. All employees will have the opportunity to engage with and help contribute to the fund's projects.
Further information on the Livebarefoot Fund can be found here.
WE DON'T WANT A SUPPLY CHAIN. WE'RE BUILDING A VALUE CHAIN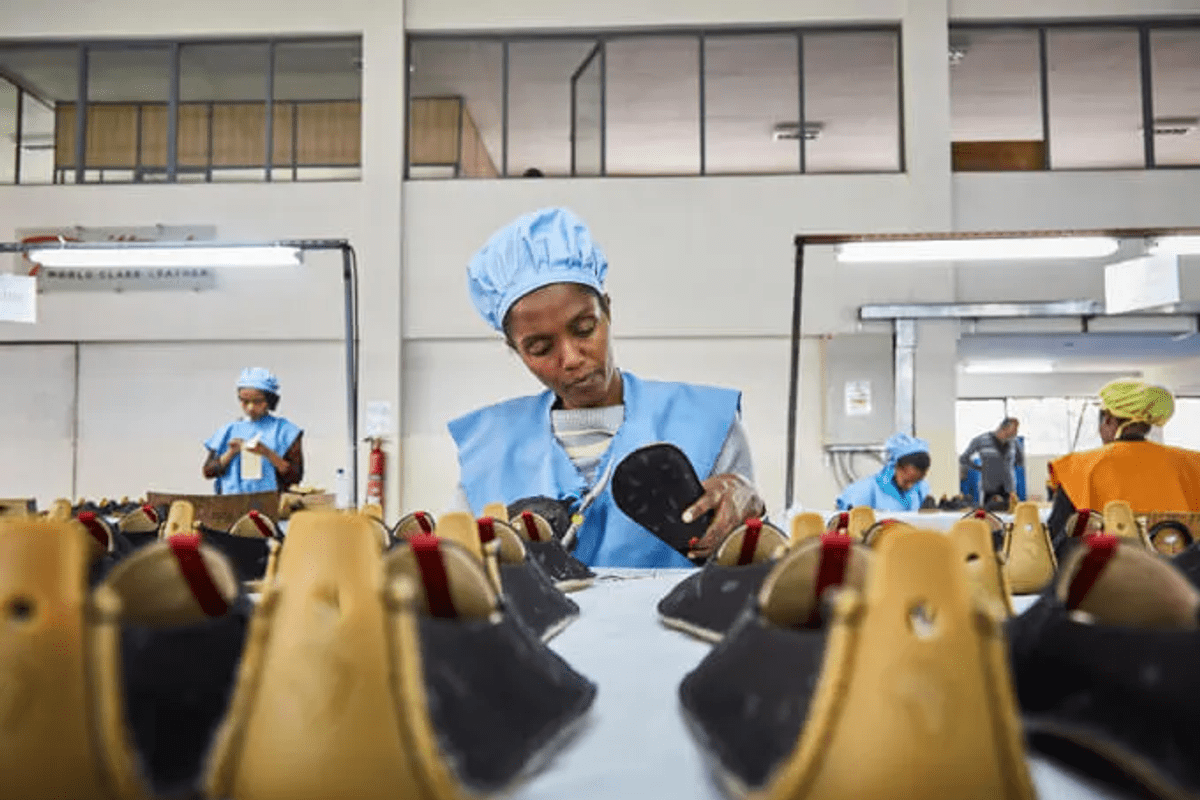 We're not there yet, but we're working hard to set the foundations of building our future value chain of regenerative manufacturing hubs, for our global footwear production. That means, adding value (social, environmental, business) at every stage of the chain, rather than extracting it like traditional supply chains.
Some of our focus areas for this are:
Full transparency from farm to factory to feet.
Environmental impact monitoring and reduction.
Social Impact Programmes.
Renewable Energy Infrastructure.
Regenerative Agriculture & Materials.
Biomimicry Inspired Facilities.
Permaculture & Rewilding.
Product, Materials and Machinery Innovation.
Live richly with a 25-day holiday allowance (pro rata), four additional days each year to volunteer, get outdoors or focus on your wellbeing, and a day off for your birthday (Even if it falls on a weekend!)

Learn new skills and broaden your horizons by using our generous professional allowance of £1,000 per year on courses and qualifications.

Embrace your hobbies and passions with our personal allowance of £1,000 per year. Vivo staff have enjoyed ice-skating sessions, pottery classes, art supplies and camping equipment. The world is your oyster ...

Enjoy a vibrant calendar of Vivobarefoot events, from celebrating our achievements at Equinox and Solstice gatherings to connecting and reflecting on multi-day retreats in the wild.

Receive three pairs of free Vivobarefoot shoes every season - twelve pairs annually! - ensuring you are always well stocked with barefoot footwear for life's adventures.

Prioritise your wellbeing by accepting our invitation to join fantastic healthcare and eyecare plans.
Interested in cycling? Make the most of our Cycle to Work scheme to help assist with any purchase of a bike and bike equipment.

Work on your professional development with the opportunity to take part in coaching sessions with both external and internal coaches.

..And more!
READY FOR YOUR NEXT ADVENTURE?
DON'T SEE ANYTHING ABOVE THAT RESONATES WITH YOU?
Be one step ahead of the crowd and receive tailored updates on future opportunities that might interest you!